All too often when a discussion arises about the Holy Spirit we either turn it into a debate about some of the "manifestations" of the Spirit, or we allocate Him to a church service.  This is so unfortunate, as the the Holy Spirit was not given for a spiritual leader to impress a crowd.  Nor was He given to be contained in a 90 minute gather of Christians.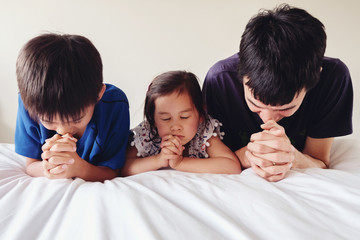 I am thankful for the work He accomplished when we gather together for a prayer meeting, church service, worship time, outreach, etc… However, in recent years I have grown in deep appreciation for the Holy Spirit's empowering abilities, direction, and overall presence in every circumstance and relationship in life.  Allowing the Holy Spirit to be an active role in your daily life will make a massive difference.
Since the Holy Spirit is God, He is omnipresent (everywhere at all-times).  One of the greatest benefits we have concerning God's Spirit dwelling in born-again Christian, is that He follows us home.  With the stress and strain that plagues today's families, we need the Holy Spirit's help in our homes more than every before.  Here are 5 Ways the Holy Spirit makes a Difference in our Homes:
HE HELPS US PRAY:  I meet so many well intentioned families, husbands, and wives who want Christ to be the center of their home and marriage, but aren't even sure how to pray for these.  Romans 8:26-27 tells us, "26 Also, the Spirit helps us with our weakness. We do not know how to pray as we should. But the Spirit himself speaks to God for us, even begs God for us with deep feelings that words cannot explain. 27 God can see what is in people's hearts. And he knows what is in the mind of the Spirit, because the Spirit speaks to God for his people in the way God wants.

"  I am so thankful He helps me pray for my wife and kids.  

HE HEALS OUR SOULS: We all enter into adulthood with emotional and relational baggage.  If these wounded parts of our soul are never adequately dealt with, negative patterns and unproductive behaviors will be repeated in our own families.  There's one line in an old church song that still speaks to my soul… "Take your burdens to the Lord and leave 'em there!"  The Holy Spirit is our MASTER PHYSICIAN and that doesn't just apply to our bodies.
HE SHAPES OUR CHARACTER:  Cooperating with the Holy Spirit determines the level of difference He can/will make in our homes.  Jesus referred to the Holy Spirit as our guide, our teacher, our helper…  The Spirit will bring to remembrance Scriptures we have learned or heart.  He will give us the wisdom we need.  We are truly changed from the inside-out.
HE EMPOWERS OUR LIVES:  No one knows us like Jesus.  He knows our weaknesses, but He also knows the potential He placed within us.  Jesus encouraged His closest followers who would have known His teachings better than anyone that they needed to wait for the Promise of the Father, the Baptism with the Holy Spirit.  The reason they needed to wait for the Holy Spirit is explained in Acts 1:8, "…when the Holy Spirit comes to you, you will receive power."  We need the power that only comes through the Holy Spirit in order to be the husbands, fathers, wives, mothers, friends, witnesses, leaders, teachers, managers, etc… The Holy Spirit does empower our lives!
HE PROVIDES SPIRITUAL GIFTS:  Last, but certainly not least, the Holy Spirit gives to us spiritual gifts.  I like to define these as 

Spirit Enabled Abilities

.  The Bible teaches that these abilities/gifts are not given for your benefit, but for the benefit of others… including your family.  These spiritual gifts are certainly not given just for a Sunday morning or a church service.  They are given to us to benefit and bless others no matter where or when.
Of course, this is not an exhaustive list of difference the Holy Spirit makes in your homes, but it is a good place to start.  Begin today and ask the Holy Spirit to be a more active part of your day and your family.  This is one invitation He will not pass up.